The 'Discretion and decision-making seminar' is the result of the on-going co-operation between the Van Vollenhoven Institute for Law, Governance and Society and the Institute for Criminal Law & Criminology of Leiden Law School and the Crime and Society Research Group of the Vrije Universiteit Brussel (VUB). Discretion is a core concept both for the NWO-funded VIDI project 'Getting to the Core of Crimmigration' of professor Maartje van der Woude of Leiden Law School and the VUB Strategic Research Program 'Crossing Borders: Crime, Culture and Control'.
The 'Discretion and decision-making seminar' is the first in a series of events organized within the framework of the VIDI project. The next event in 2018 will focus on cross-border mobility in Europe.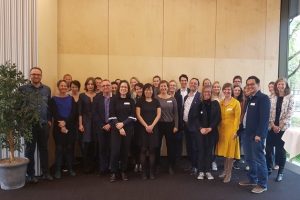 During the seminar, scholars from Belgium and the Netherlands presented papers in which they, either through a theoretical or an empirical lens, reflected on the concept of discretion. With contributions from criminology, criminal law, psychology and sociology of law, the seminar illustrated the relevance of the theme to scholars from a broad range of disciplines. The seminar was both international and interdisciplinary. The presentations covered criminal justice practices in the Netherlands, Belgium, Japan and Indonesia. Each presentation was commented upon by renowned international discussants such as Prof. Cyrus Tata (Strathclyde University) and Dr. Karine Côte-Boucher (Centre International Criminology Comparée, Université de Montréal)
The papers will be reworked into articles for a future special issue of an open access journal.